Diwali 2019 is near and it's time to create some special Rangoli Designs for our loved ones. Well, it is interesting to see when people in different parts of India create special Rangoli designs, according to their culture and traditions.
Well, Rangoli which is usually created with materials such as dry flour, colored sand, and flower petals is basically made during Diwali,  Pongal, Onam, and Tihar. Further, Rangoli designs also symbolize the victory of light over dark.
What is the Signifivance of Rangoli Design on Diwali?
Rangoli Designing is one of those popular art forms, which is practiced by Indian families during auspicious occasions. The term, "Rangoli" usually refers to different layers of colors. While Rangoli designs are basically drawn on the ground with sand, white powder, chalk, colored power etc.
Meanwhile, different kinds of colors, glitter, and flowers are filled in the designs to make it look more appealing. Being a sign of creativity, Rangoli Designs are drawn at the entrance of the house for greeting god.
Further, design depictions can change as they portray folklore, traditions, along with practices which are unique to each area. Moreover, there are two different ways of making a Rangoli which includes, dry and wet
During the festival of Diwali, women decorate the entrance of their houses early in the morning for the prosperity and happiness of their children and family. It is said that Rangoli Designs symbolizes the welcoming of the guests at home.  Further, we have always heard the word  'Athithi Devo Bhava', which means that "the guest is equivalent to God".
Meanwhile, here, we are sharing top 20 Rangoli designs for Diwali which will help you in gaining admiration from your friends and relatives, Check it out:-
1. You must check out this beautiful Rangoli Design for Diwali 2019. Well, the Ganesha drawing is this rangoli looks so beautiful, isn't it?
2. Diwali is the festival of lights and guess what this rangoli design with the symbol "ॐ" looks so beautiful.
ALSO READ: Diwali Games -10 Quirky Games That Will Pep Up Your Diwali 2019 Party
3. We know that you want to make your friends jealous of your Diwali plans. Well, creating an awesome Rangoli Design like in the picture below is another fantastic idea to accomplish your objectives.
4. Here, we would like to share another beautiful Rangoli design which includes Pink, violet colours along with a Swastika symbol.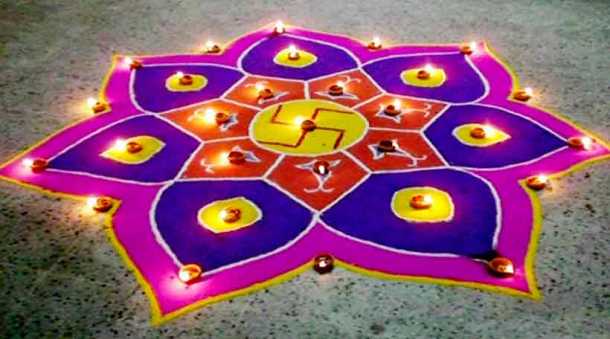 5. A special way to greet everyone, "Happy Diwali" is by creating a colourful Rangoli.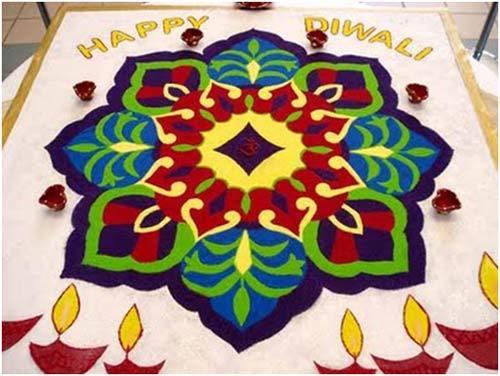 ALSO READ: Chhath Puja 2019 Dates: Nahay Khay, Kharna Timings and Significance
6. It's time to execute your math skills in Rangoli Designing by creating a geometrical rangoli design.
7.  Here, we would like to share a special Rangoli design for making your Diwali celebration special.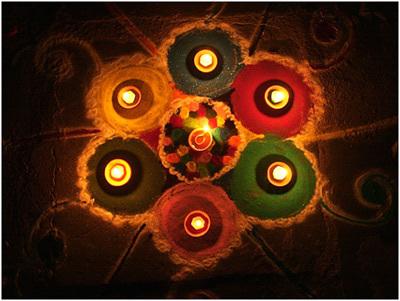 8. It's time to get out of the traditional Rangoli Designs this year and try something new. Well, the rangoli design is made of several colours which include pink, blue, purple and green.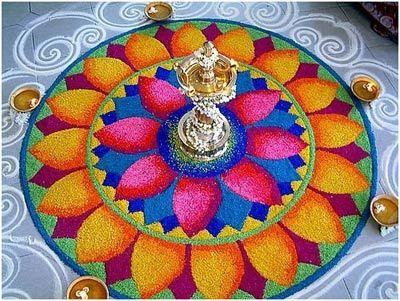 9. While this Rangoli design is suitable for the ones who lack the time and have less experience in the art making rangolis. Well, it has multiple shades of the same color which enhances the Rangoli look.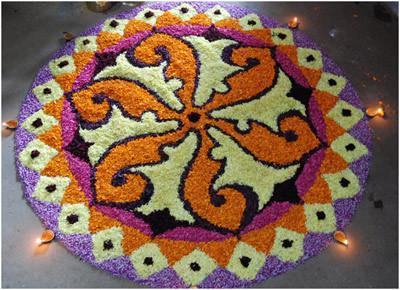 10. The special thing about this Rangoli Design is that it has lord Ganesha, on a bright red backdrop with artistic designs.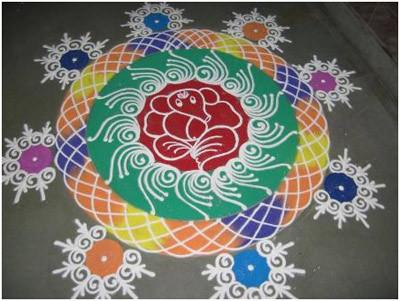 11. This is an interesting Rangoli design which has lots of diyas to get one in a festive mood.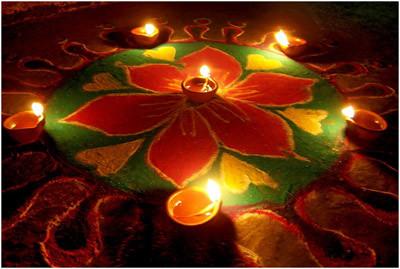 12. What can be better than a flower Rangoli during Diwali which has a large number of colors ranging from yellow, orange,  violet, white,  and red.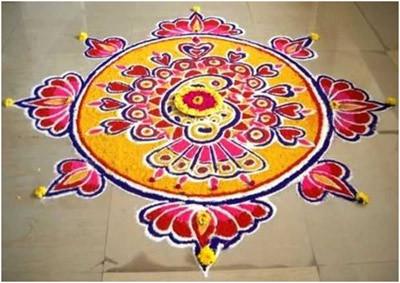 13.  This is a unique rangoli design which has a large number of diyas which are made of different size.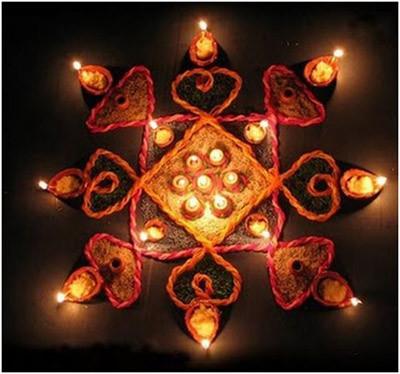 14, This rangoli design is an incredible mix of soft curves and straight lines along with diyas which are highlighted in pink.
15. This rangoli design which is made of mango motifs and with different shades of orange, purple, blue, and yellow is easily one of the best designs for Diwali.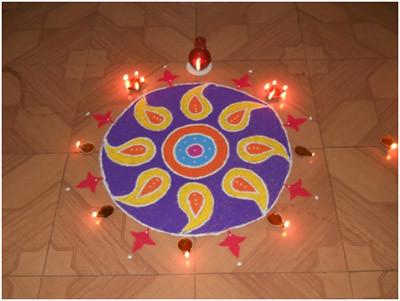 16. This colourful Rangoli Design with lots of diyas is easily one of the special Rangoli Designs of 2018.
17. For those who like contemporary and festive rangoli designs, kundan-style new modern rangolis are best for them.
18. It's time to transform our passion towards social media into creation. This Diwali, you must try to make some special form of Rangoli Designs like a social media theme rangoli design.
19.  The peacock rangoli designs are always in the trend during Diwali. Well, you can create a unique rangoli design with colours of our National flag.
20. Let's end with a beautiful rangoli design which includes a deer, with a colourful foliage around it.
Well, that was our top 20 Indian Rangoli designs list. Meanwhile, we hope that you all might have loved these Rangoli designs or enjoy doing them in your home and make it colourful.
So, this Diwali, make your home colourful with these Rangoli Designs.
ALSO READ; Chhath Puja Mp3 Songs Download: Listen To Top 10 Sharda Sinha Songs
Keep following  Ganatunes on Facebook for more Rangoli Designs