Is it the end of PewDiePie's era on YouTube?, Believe it or not, the PewDiePie vs T-series battle is turning out to be one of the biggest war on the internet. Moreover, the news of T-Series becoming the most-subscribed channel on YouTube has left all PewDiePie's bro-army/ Squad Fam/ 9-year-old army in a state of shock.
As YouTube is all set to crown a new king, this also marks the end of PewDiePie's 5-year reign at the popular video-sharing website.
Meanwhile, it is interesting to know that T-Series Pvt. had only 30 million fans at the beginning of 2018, which is way less than half of the following for No. 1 PewDiePie. Now, India's largest Music Label & Movie Studio has above 70 million subscribers.Further, T-series already has the most monthly views on YouTube, which makes it a powerful channel.
However, PewDiePie's fans have now started to post some critical comments on T-Series videos. Further, some of his fans are also creating new accounts to increase the number of subscribers on PewDiePie's YouTube channel.
Well, one might think that T-series is getting its supporters only from India itself. While this is not the case, as it is reported that 40% of its viewership comes from outside the country.
Who is PewDiePie?
Felix Arvid Ulf Kjellberg, popularly known as PewDiePie, is a Swedish YouTuber, video game commentator, and comedian, is famous for his Let's Play commentaries, comedy, and vlogs. Reports also say that PewDiePie is sone of the most influential online personalities in the world.
In 2010, he started a YouTube account under the name PewDiePie. Well, soon his videos started to get a lot of views and in 2012, his channel surpassed 1 million subscribers.
On 15 August 2013, he became the most-subscribed user on YouTube. Meanwhile, PewDiePie channel has got over 70 million subscribers. Now, it holds the record of the most-viewed channel on YouTube.
PewDiePie's most popular YouTube comprises Let's Play-styled video game commentaries. Apart from the horror genre and video game commentaries, he started comedic vlogs into his content output. Along with the time, his content started to get praise from the audience.
However, in 2017, he was found in a controversy regarding allegations of anti-Semitism. In many of his videos but that didn't affect his image.
ALSO READ: Top 10 Merry Christmas Wishes 2018 – Greetings For Friends and Family
The emergence of T-series in the world of YouTube
T-series is an Indian music label and film production company which was founded by Gulshan Kumar in 1983.
Well, T-series breakthrough album was Aashiqui (1990), which had became the best-selling Indian soundtrack album of all time.
However, after the unfortunate death of Gulshan Kumar, it was younger brother Krishan Kumar and son Bhushan Kumar who had decided to lead the music company.
In the late 2010s, T-series started to post music videos and trailers from its catalog on YouTube.
Interestingly, the T-Series YouTube channel has the most number of views, with over 53 billion views. As of 6 November 2018, the YouTube channel ranks as the second most-subscribed channel just behind PewDiePie.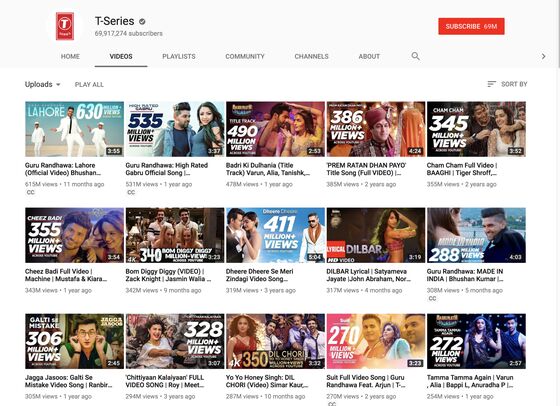 According to a YouTube tracker Social Blade, T-series gains over 100,000 subscribers a day. With this, it is about to surpass PewDiePie to become the most subscribed YouTube channel in the world.
So far, T-Series's biggest hit song, "Lahore," sung by Guru Randhawa has got over 615 million views on YouTube.
Also, it also operates 29 channels and has over 100 million combined YouTube subscribers along with 61.5 billion views.
The beginning of PewDiePie vs T-series: The war
On 5 October, PewDiePie uploaded a diss track on T-Series titled "Bitch Lasagna", after it was estimated that T-series is all set to surpass his YouTube channel.
Speaking on the whole issue, PewDiePie later said, "I don't really care about T-Series, but I think if YouTube does shift in a way where it does feel more corporate, then something else will take its place."
Well, there are a lot of reasons behind T-Series remarkable growth. One must know that India has a population of more than 1.3 billion people, while the entire North American continental population is around 580 million.
Further, YouTube has approximately 225 million monthly users in India.  While eighty-percent of the country's population signing into YouTube each month.
It is also a known fact that there are only a few channels in the West which are creating high-quality Bollywood content.
Further, whenever you will type "Bollywood" into YouTube's search bar, T-Series usually dominates the list of all the recommended videos.
All credit goes to the emergence of the high-speed internet in India in last few years. Well, this is a huge opportunity for all Indians to let the world know about their talent.
In an interview, Bhushan Kumar, T-Series chief executive officer, said, "This digital era is fantastic, it's here to stay. It's giving us popularity. It's giving us recognition.
Further, this is a great opportunity for T-series to become the first non-English-language channel to become No.1 worldwide.
Here, check out the PewDiePie vs T-series Live Sub Count:
Indeed, we can't wait to see who is going win this PewDiePie vs T-series battle?
ALSO READ: New Year Party Songs Mp3 Download: 10 Best Party Songs For The New Year's Eve
Keep following Ganatunes for latest PewDiePie vs T-series updates, Like us on Facebook or follow us on Twitter